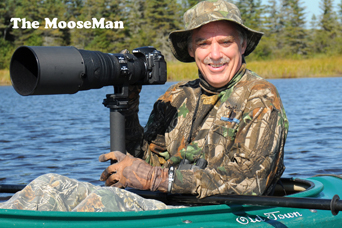 Wildlife Adventures from a Kayak!..... 

Rick Libbey, the MooseMan has followed his dream and took a different path to get there.
   Things started back on the family farm during childhood. Ricky was usually found down the pond out back of the barn, exploring whatever moved both around and in the water. In 1981, (well before MooseMan company was formed) Rick took a wilderness trip and became fascinated with MOOSE....He started keeping a journal of each moose encounter and as of 2014 has logged over 3100 different encounters with moose. For many years it was just for fun, but in 2003, The MooseMan company was formed. MooseMan is a full-time business and a passion thru and thru. Rick loved shooting film and stuck with it until early 2008. Not much of a fan of computers for sure, however....today MooseMan shoots with Nikon DSLR's and from a monopod in the kayak.
   Rick lives in Andover, NH right on the Blackwater River. He has come to realize it's all about gratitude and respect. MooseMan is extremely fortunate to have the freedom to enjoy Nature for a living.  Much of the work is done locally and from certain little special places. All the loon work on this site is from the same pond in New Hampshire. Rick flies into a wilderness setting in the North Woods for the moose work.
   Another passion for MooseMan is speaking to audiences. Rick presents slide shows often and simply loves to share his experiences with young and old alike.
   THANK YOU for visiting my site and although the site is set up for e-commerce....Rick certainly encourages phone calls to discuss anything any customer may need to talk about.   phone 603 735 5323
ENJOY THE WILDLIFE.....IT IS CLOSER THAN YOU THINK...:)